Visit the Dolfi Land
Discover the wonderful Dolfi wood's world, surrounded by the beautiful nature of Dolomites!

A large foyer welcomes you into Dolfi Land space, a wood's park where, in a showroom designed by Annamaria Rella Comploi our artistic director is exposed to the public the entire range of Dolfi production, that has thousands of different items, carved in wood with great love and skill. Our attention to detail and the centuries-old passion for job are basis of our crafts. In the modern construction of the new structure, emphasized by the natural light of the very large windows, we show you each type of product, each well set in a series of mountain huts, almost forming a small village, which changes appearance in different seasons of the year. A magical blend of tradition and innovation, where the ancient art of Masters cabinetmakers sculptors fits perfectly with the contemporary of new technologies.

Admission is free, and we offer multilingual tours on request, facilitated access for the disabled as well as more than 3000 square meters of parking directly.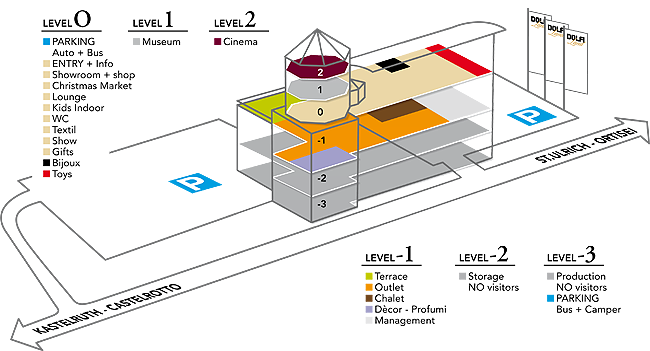 The Dolfi wood wristwatches, the wood glasses and the wooden bijoux made in Italy are available in our dedicate online shop.